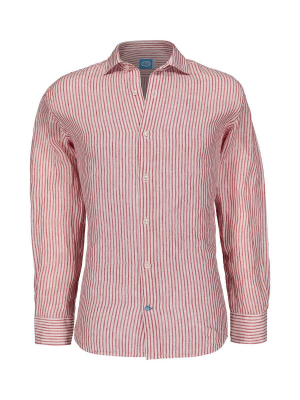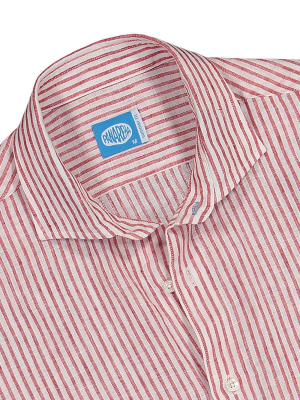  
Camisa de lino a rayas CORSICA
La versátil camisa de lino a rayas CORSICA es el atuendo perfecto para ir de la playa a la ciudad con un verdadero estilo veraniego. Se puede usar sobre bañadores durante el día o como parte de un atuendo de noche de verano.
Está confeccionado en un lino premium transpirable y está súper lavado para tener ese aspecto cool y relajado.
The versatile Panareha CORSICA striped linen shirt is the perfect attire to go from beach to town in true summer style. It can be worn both over swimming trunks during the daytime or as part of a summer evening outfit.
Our linen shirts are your best pick to stay cool during the hot season: the light and breathable fabric allow heat to escape quickly. They're light, moisture-wicking and they lend a touch of sophistication to summer, remaining unrivalled for maintaining comfort.
The CORSICA is made from the best breathable premium linen and is specially washed to have that cool and relaxed look, which can be worn on all occasions during the summer season. It comes in our summer fit, developed in between the slim and the classic fit, which guarantees the comfort and the style you want on a summer shirt.
It's handmade in Portugal by the best artisans with our signature two pieces cutaway collar with removable stays so you can choose between a more or less stiff collar. We suggest you take out the stays for a totally relaxed beach look.
Branding comes with our signature button present in all our shirts on the lower chest.
♻ This item is made from 100% linen, a natural and durable fiber that has a lower environmental impact than cotton. Linen requires less water and pesticides to grow. Linen is made from the flax plant, which cultivation produces no waste. Growing flax requires no irrigation, no fertilizers and no herbicides and pesticides, and therefore does not pollute rivers or groundwater. Linen lasts longer than other materials.
Corsica, a mountainous Mediterranean island, presents a mix of stylish coastal towns, dense forest and craggy peaks. Its beaches range from busy Pietracorbara to remote Saleccia and Rondinara. It's been part of France since 1768, but retains a distinct Italian culture.
Ficha técnica
Composición

100% Lino

Style

Button-up

Fabric Type

Woven

Ajuste

Summer fit

Patrón

Rayas

Color

Rojo

Manga

Manga larga

Cuello

Cutaway collar with removable stays

Botones

Branded buttons

Puños

One button barrel cuff

Sustainability

Hecho de lino, un material ecológico

Care Instructions

Machine wash at 30°C, Do not tumble dry, Iron low, Do not bleach
Referencias específicas
ean13

5600968510143