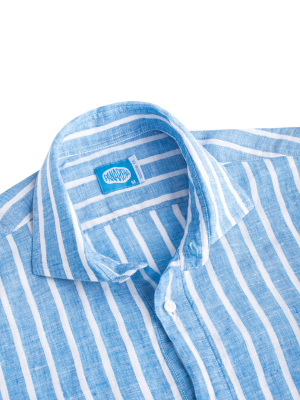  
chemise popover en lin rayé SICILIA
Nous vous présentons la chemise popover en lin SICILIA pour homme - le complément parfait à votre garde-robe d'été ! Fabriqué à partir de tissu de lin de qualité supérieure et avec son style décontracté unique, plus habillé qu'un polo mais plus décontracté que votre chemise boutonnée moyenne, ce t-shirt est léger, respirant et conçu pour vous garder au frais et à l'aise même les jours les plus chauds.
Introducing the SICILIA men's linen popover shirt - the perfect addition to your summer wardrobe! Made from premium quality linen fabric and with its unique casual style, dressier than a polo shirt but more relaxed than your average button-down, this shirt is lightweight, breathable, and designed to keep you cool and comfortable even on the hottest of days.
Featuring a stylish stripes pattern, the SICILIA shirt is a versatile and trendy option for any casual occasion. Its half-button provides a very fresh look making it suitable for beach outings or a night out with friends. The stripes pattern adds a touch of sophistication to the shirt and complements any summer look.
Crafted with attention to detail, this part dress shirt part polo shirt blurs the line between casual and dressy. Due to the lack of stretching in a woven garment, the body is cut a little looser to make it easier to put on and take off. This looser fit gives the popover a more casual, relaxed look.
The SICILIA is made from the best breathable premium linen and is specially washed to have that cool and relaxed look, which can be worn on all occasions during the summer season. It comes in our summer fit, developed in between the slim and the classic fit, which guarantees the comfort and the style you want on a summer shirt. It's handmade in Portugal by the best artisans with our signature two pieces cutaway collar with removable stays so you can choose between a more or less stiff collar. We suggest you take out the stays for a totally relaxed beach look.
♻ This item is made from 100% linen, a natural and durable fiber that has a lower environmental impact than cotton. Linen requires less water and pesticides to grow. Linen is made from the flax plant, which cultivation produces no waste. Growing flax requires no irrigation, no fertilizers and no herbicides and pesticides, and therefore does not pollute rivers or groundwater. Linen lasts longer than other materials.
☀ Made famous by Ivy League students in the 60's, the popover shirt gets its name because you have to "pop" it "over" your head. Makes sense to us. It wasn't long before the popover found its way to international style icons, taking it from a distinctly American style to something with broad appeal. A popover shirt is a woven garment that has 4 buttons at the top of the shirt. The half placket stops at the center of the chest. Since the popover does not have a full placket with buttons going down the front, you have to "pop" it "over" your head and shoulders to be worn.
Sicilia, also known as Sicily, is the largest island in the Mediterranean and a popular summer destination for those seeking a unique blend of history, culture, and stunning natural beauty. It offers a variety of beaches ranging from sandy stretches to rocky coves, making it ideal for swimming, sunbathing, and water sports. Additionally, Sicilia is renowned for its delicious cuisine, which blends influences from Italian, Greek, and North African cultures, as well as its world-famous wines.
Fiche technique
Composition

100% Lin

Style

Popover

Fabric

Albini 1876

Fabric Type

Woven

Coupe

Summer fit

Motif

Rayures

Couleur

Bleu

Manche

Manche longue

Type de col

Cutaway collar with removable stays

Boutons

Branded buttons

Menottes

One button barrel cuff

Sustainability

Fabriqué en lin, un éco-matériau

Care Instructions

Machine wash at 30°C, Do not tumble dry, Iron low, Do not bleach
Références spécifiques
ean13

5600968513052